Gray Matters Foundation Night at Chase Field 2018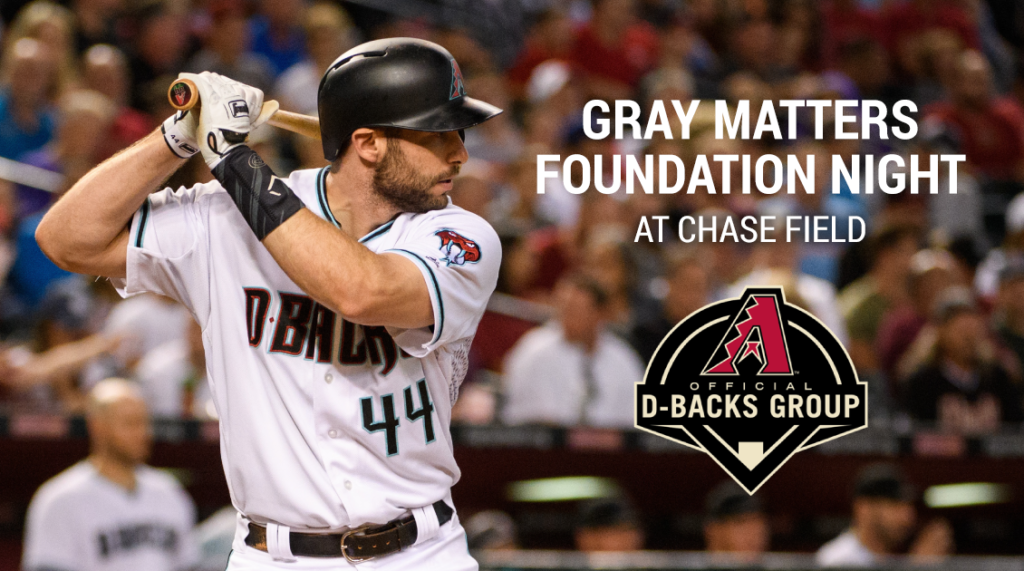 LET'S PLAY BALL!
Gray Matters Foundation is inviting you and your friends to Chase Field on Thursday, April 19 to join us as we host our 10th Annual Arizona Diamondbacks game fundraiser.
We have great Lower Level, Bullpen Reserve seats available for just $19 per ticket.
To reserve your seats, please order your tickets, before April 7.
About the Game
Thursday, April 19, 2018 @ 6:40pm
Arizona Diamondbacks VS  San Fransisco Giants
Chase Field
401 E Jefferson St
Phoenix, AZ 85004
How to reserve tickets
Tickets can be purchased directly through Lanette. Call 623-205-6446, email lanette@graymattersfoundation.org or message the Facebook Event page to arrange purchasing your tickets.
Ticket sales are closed after April 7th.
There are a limited amount of tickets available. To ensure that your party is seated together, please coordinate your groups before purchasing tickets and if possible purchase all tickets at the same time. Be sure when you purchase your tickets to let Lanette know what party you are with. Tickets not purchased in a group can not be guaranteed to be seated with a specific group (though we do try our best to coordinate).
All ticket SALES ARE FINAL and NON-REFUNDABLE.
However they are transferrable so please feel free to share your tickets with others in the event that you cannot attend the game.
When to pick up your tickets
After the close of ticket sales on April 7th, meetup locations will be announced where you can pick up your tickets. Please follow the Facebook Event page to ensure you receive the notification for when and where.
You are responsible for your tickets once they are in hand. Tickets can not be replaced or refunded. For this reason we do no ship tickets via mail. We apologize for any inconvenience.
Spread the word
A baseball game is more fun with friends! Download and share this official flyer and get your teammates together for the big game!!