Basket Raffle 2020
LIVE Streaming on Saturday, Nov 14th, 2020 @ 6pm
Live from the comfort of your couch - our annual basket raffle goes virtual. *Pants optional.
Our Annual Basket Raffle Goes Virtual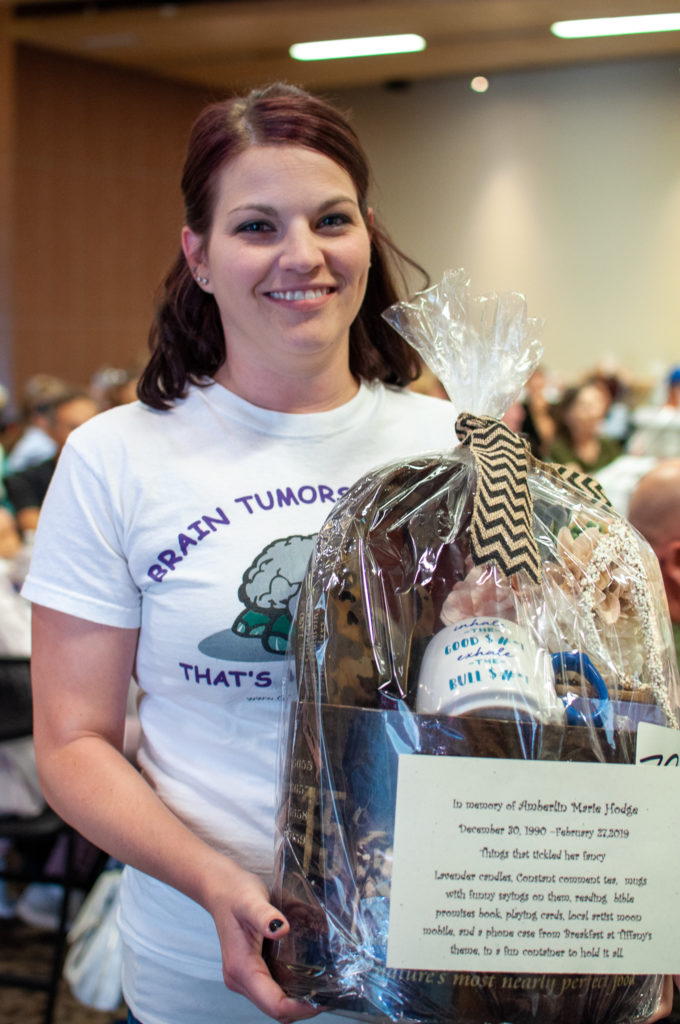 Heather Bristow 2019 Basket Raffle Winner
The Gray Matters Foundation Annual Basket Raffle looks a little different this year. Like many events, we are going virtual in efforts to keep all of our Brain Buddies safe at home.
Our Basket Raffle is the highlight of our year and our biggest fundraiser. Though we are saddened that we will not get to see all of our Brain Buddies in person, we are hoping to make the online experience a fun one.
Sharing our Brain Buddie stories is the heart of our foundation. The purpose of the Basket Raffle is to tell those stories through baskets that are curated with a Brain Buddie in mind.
Some baskets are celebrations for survivors and are themed around activities they enjoy, like "Movie Nights" or "Family Game Night". Others are built around some of the favorite things of a loved one who has passed, such as Lanette's "Grandma Kirk's Donut Basket". Other baskets are just for fun from family, friends, or local businesses who wish to show their support for Gray Matters Foundation.
All of our baskets have a story and all are meaningful and full of love.
If you are interested in donating a basket for our raffle please visit our basket donation page for more information. The deadline for basket donations is Nov 1, 2020.
We hope that you will continue to support the Gray Matters Foundation by joining us online and participating in our virtual event!
Donate a Basket
We are now accepting donations for the 2020 Basket Raffle!
Need some ideas? Check out our basket guide!
How to Participate in our Virtual Event
Follow our Facebook Event Page
In the weeks leading up to the basket raffle we will be posting videos and photos of the baskets on our Facebook Event Page. We will have regular "Brain Buddie" baskets as well as a few BIG ticket items. All baskets will be showcased online for viewing by Nov 6th.
After purchasing your tickets, follow the instructions in your confirmation email to designate your tickets to the baskets of your choice BEFORE Nov 13th. (Don't worry, if you purchased a ticket we will send you an email reminder!)
Join us on Saturday Nov 14th @ 6pm MST from the comfort of your couch and watch as we pull raffle winners via live stream! *Pants optional